other way to put it – overshadows its competitors. However, small business owners should not overlook the advantages of optimizing their websites for other search engines, which attract billions of monthly users seeking valuable information. In addition to Google, a variety of popular and widely-used alternative search engines are constantly gaining traction, driven by factors such as concerns about privacy and even the simple desire for convenience. Let's take a look at some of the most prominent alternatives to the number one search engine today.
Bing
Let us start with Bing, the Microsoft search engine that is becoming more popular at a very fast rate, thanks to the integration of AI to it. We've made a list of some steps you can take to optimize your website on this search engine (and it is actually quite simple).
Submit your website to Bing Webmaster Tools. It sounds so obvious, but many website owners aren't even aware of it. This gives you access to the website's data and the tools to track your performance over time. This step is a must.
Focus on keyword research using Bing's Keyword Planner, to identify relevant keywords.
Optimize your website's metadata, including title tags and meta descriptions. You can do this by including main and secondary keywords in the meta data of your pages.
Create high-quality, original content that is valuable to users. Bing, like other search engines, wants to display the most useful content to users, rather than the most keyword stuffed ones.
Start a campaign to build a strong backlink profile through ethical link-building practices.
Ensure that your website is mobile-friendly and fast to load. What's true for Google is also true here.
Leverage Bing Places for local SEO. This helps you appear in the search results when people near you search for your services.
Oh, and by the way, Yahoo's search results are also powered by Bing, and as such, optimizing your website on Bing by following the previous steps will also improve the performance of your website on Yahoo!. Additionally, you can submit your website to Yahoo! Small Business for local SEO.
DuckDuckGo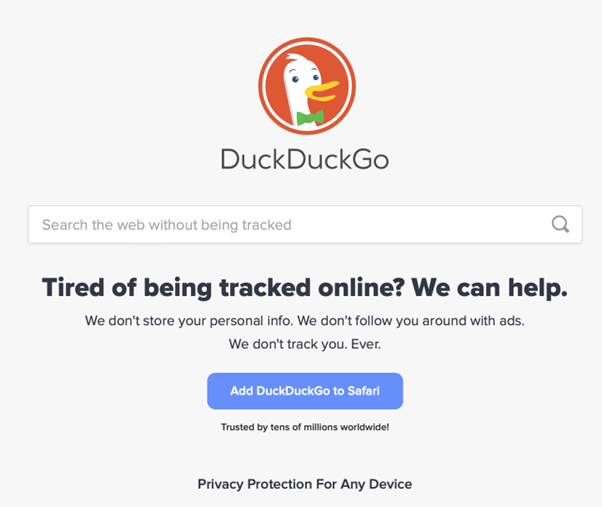 DuckDuckGo is preferable when users value privacy
DuckDuckGo is another good search engine with one very clear advantage to its users – it never tracks the search history, giving them more privacy. It uses multiple sources to generate search results, including Bing and its own web crawler, DuckDuckBot. To optimize your website on it, follow the tips below.
As with other search engines, focus on general and common SEO practices, such as optimizing metadata, creating high-quality content, and building a strong backlink profile. Also, make sure you are optimizing on Bing, given its relevance.
Since DuckDuckGo values privacy and security and has built its value proposition on top of that, make sure your website is secure with HTTPS (which ensures that the data transmitted between the user's browser and the website is encrypted, preventing unauthorized third parties from intercepting and reading sensitive information).
Leverage local SEO and schema markup to provide more context and information about your website. Schema markup is a standardized vocabulary of microdata tags that webmasters can add to their HTML code, to provide search engines with additional information about their content. It helps search engines understand the context and meaning of your content, which can improve how your pages are presented in search engine results pages.
Baidu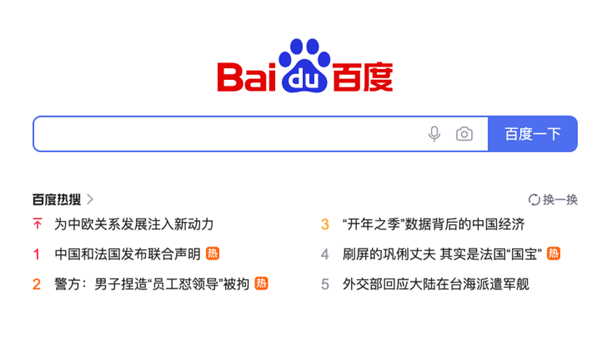 Access billions of Chinese customers with Baidu
Baidu is the Chinese equivalent of Google, and as such, it naturally serves many millions of people searching online. If you are aiming to cater to this market, then optimizing on this engine is an imperative. The steps to optimize for Baidu are similar to the steps on other search engines.
Make sure you submit your website to Baidu Webmaster Tools, just like you would do with other search engines. Remember to use simplified Chinese for your website's content and metadata, as this is the principal language of Mainland China. You can also use Baidu Maps and Baidu Baike (an encyclopedia) for local SEO and additional exposure.
Conclusion
As you can see, most of the core principles of SEO remain the same with different search engines: creating valuable and high-quality content, optimizing metadata, building a strong backlink profile, and ensuring a fast and user-friendly website experience. The last element is particularly important, as the better the experience, the more memorable your website is – and the more memorable it is, the better ranking it will have on search engines, including alternative ones.